TEMENOS Community Forum (TCF) 2019 Highlights - ARB Apex Bank/RCBS Win Best Inclusive Bank Award 2019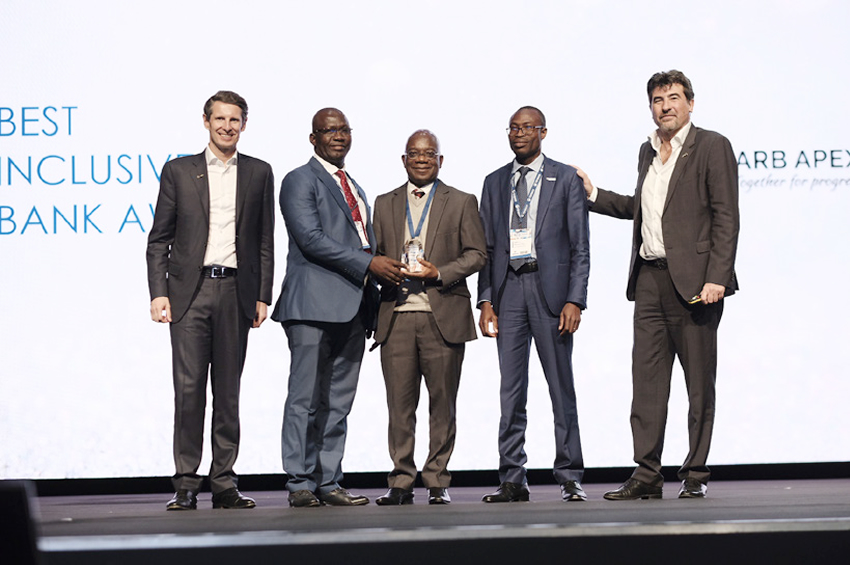 The 2019 Temenos Community Forum (TCF) took place in The Hague, Netherlands at the World Forum from 2nd to 4th April, 2019. The conference was attended by nearly 2000 delegates, coming from Financial Institutions, Fintechs and Temenos Partners in 114 countries worldwide.
Following the theme Digital Banking Reloaded, the conference emphasized the need for financial institutions to rethink and move away from legacy technology and banking practices. Instead, banks must innovate and create digitized products and services which meet customers' evergrowing needs, and can match the stiff competition from the Telcos, Fintechs, and big industry players such as Google, Amazon Web Services (AWS), Microsoft among others which are gradually penetrating the banking industry and taking over at an alarming rate. Banks, especially the ones on the African continent which have been doing banking for more than 50 years, must rise and take pragmatic and strategic steps to safeguard their space within the banking industry. Competitors entering the banking industry are investing in and leveraging their expertise and modern technology to create the needed customer convenience and experience to cause huge customer attrition to the disadvantage of banks and other financial institutions.
Temenos, as a strategic partner, continues to evolve its product offerings to help empower its customers to remain competitive and relevant to their esteemed customers. Earlier this year, Temenos launched two products: Temenos Infinity (a breakthrough digital front office product) and Temenos T24 Transact (a nextgeneration core banking platform). These two major offerings will empower clients with the requisite features, agility and scalability required for fast implementation of banking products and services to customers. Temenos clients can take advantage of cloudnative capabilities to accelerate software delivery with continuous deployment, giving them the ability to change code in the morning, and have it deployed that afternoon.
The Rural and Community Banks (RCBs) are currently on Temenos Inclusive Banking Suite (IBS) Release 14 with Arrangement Architecture (AA) Lending (Loans) and Deposits. The latest release on the IBS is Release 18 which came with the following enhanced features and functionalities;
Bulk AA Loan disbursement and repayment
Bulk AA Loan rescheduling
Loan Origination and Topup
IFRS9
File Upload
Progressive release of initial security deposit
Document Output
Scanning and Indexing
Member Management
Single Customer View with Notes and Tasks
Family Information Arrears Management
Account Statement Enhancement
Customer Details on Account Statement Enquiry
Individual Customer Loan Cycling
Parameterise Sector and Industry for Group Customers
In July 2019, the newest release for IBS, R19, will be published, which will also come with additional enhanced features such as:
Agent Commission management
Open API Integration
Money Market
The ARB Apex Bank has secured funding under the Financial Sector Development Project for Ghana, financed by the World Bank, to upgrade the existing Temenos R14 installment to the latest release R19 by third quarter 2019. R19 will come with all the newly introduced features and functionalities noted above to help address and improve user and customer experience on the Temenos platform.
The climax of the TCF event has always been the "Best in Banking Awards", and this year nine (9) customer categories were awarded.
The Awards were presented by Chief Client Officer, Miss Alexa Guenoun and Chief Revenue Officer and COO, Mr. Jean-Michel Hilsenkopf who opened the event saying: "There is a once in a generation shift happening in the industry, as banks look to change and innovate in order to compete with challenger banks, fintechs and big techs. Now, more than ever, banks need to break down the barriers of legacy technology and legacy thinking, and to position themselves for success in a competitive digital world. This year's awards recognize clients who aren't just reacting to the change, but are leading the way and building a future for themselves and their customers. It gives me great pleasure to congratulate this year's winners."
The award winners for the 9 categories were:
1. The Chairman's Award went to ABN Amro
2. Visionary Leadership Award went to Bank of Singapore
3. Best Digital Front Office Award went to HSBC USA
4. Best Core Banking Award went to Commercial International Bank of Egypt (CIB)
5. Best Payment Solution Award went to KBC
6. Best Fund Administration Award went to BNP Paribas Securities Services
7. Best Wealth Solution Award went to Standard Chartered Private Bank
8. Best Cloud Innovation Award went to Prestanomico
The final award went to ARB Apex Bank and the RCBs for being the Best Inclusive Bank for 2019. This is a remarkable achievement, looking at the caliber of all of the award winners.
While introducing the awards and winner for the Best Inclusive Bank, Jean-Michel Hilsenkopf stated: "The last award I will present to you is the "Best Inclusive Bank Award" which rewards a community bank that provides a truly customer-centric experience, and that passes on their operating cost efficiencies to their endcustomers in the spirit of financial inclusion. This is an important award, as financial inclusion is a key enabler to reducing poverty and boosting prosperity. The winner is a 'mini'-central bank for the Rural & Community Banks (RCBs) in Ghana. 10 years ago, they rolled out Temenos' single consolidated technology platform in the form of a managed service, connecting 140+ rural banks, totalling 700+ branches, serving over 6 million customers with almost 7 million accounts and on average 220,000 daily transactions. This client is our largest Inclusive Banking Solution installation running off a single instance. And the winner is: ARB APEX!"
Further to this, the Head of Operations, Mr Michael Appiah granted an interview to the Temenos team on the state of rural banking in Ghana, and the ARB Apex Bank's role in the financial inclusion agenda for poverty reduction and empowerment. Mr. Appiah also shared how Temenos products and services, and its strategic partners Inlaks and TGL, empowered the ARB Apex Bank and RCBs to pursue their vision and mission towards the overall financial inclusion agenda for the rural communities in Ghana. During the interview, he highlighted the benefits gained by transforming the manual operations of the rural and community banks into a digitized platform, powered by Temenos T24 Transact, operating in a private cloud in Ghana. Through the platform, we have been able to deploy EMV GH-Link debit card to all the rural banks as the first ever EMV GH-Link local card issued in Ghana, ahead of all financial institutions including the Universal Banks. The rural banks are now able to compete head-on with other financial institutions, including the universal banks, in terms of cheque clearing and national payments through the national payment hub.
The future looks great and exciting as Temenos positions banks to transform and innovate customercentric products and services, leveraging Temenos' products, creating the needed convenience and high quality experience for their valued customers.
| | |
| --- | --- |
| | |