Meet John Ofori Jnr: The Man Who Dedicated 31 Years To Rural Banking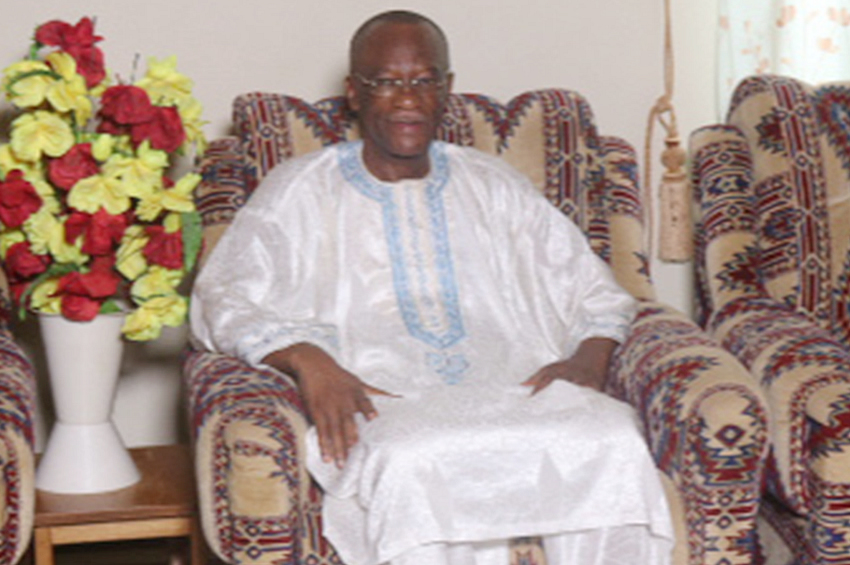 The Rural Banker had an elaborate chat with Mr Ofori Jr at his retirement home in Agona Swedru, Central Region on a range of issues. Below are extracts:
How the RCB journey began for him
After serving Agona Rural Bank for his entire work life, Mr Ofori Jr, half Akwapem and half Fante decided to spend his retirement at Agona Swedru. He revealed that he started his elementary education at Adukrom Akuapem and continued to Liberty Avenue Boys School at Adabraka in Accra.
"After a successful completion I gained admission to Swedru Secondary School, which was the first Ghana Education Trust School established by Dr Kwame Nkrumah in 1968. I had my Ordinary Level Certificate (O' Level) in 1973", he said. He added that, "while working, I studied and had my intermediate certificate from the Chartered Institute of Bankers in 1974. I also pursued further studies at the University of Cape Coast and graduated with a Master of Arts degree in Human Resource Development".
He said he got married to Mrs Josephine Ofori on March 6, 1976 and they have been blessed with three daughters. As a way of showing the love, he shared some 43 wedding anniversary drinks and food with The Rural Banker team.
Mr Ofori Jr started his career with Ghana Commercial Bank (now GCB Bank) in 1974. After working with GCB Bank for almost 10 years, he moved to the newly established Agona Rural Bank on October 7, 1983 until he retired honourably on February 19, 2014. The pioneer General Manager therefore gave a total of 31 years of dedicated service to the rural banking sector.
Team members
Some of the team members he remembered vividly included: Mr Amusah, the current General Manager, who was the Accountant at the time. Others are, Phillis Turkson, a Project Officer, Shewu Shagari, Finance officer, and Prince Ntiamoah, Manager of Agona Swedru Branch.
Fond memories
Recollecting some of his fondest memories, he noted that, "one Monday morning in 1995, Dr G. K. Agama, the then Governor of Bank of Ghana (BoG), announced the closure of all RCB clearing accounts with the Central Bank and advised RCBs to open their clearing accounts with any universal bank of their choice. By that fiat, the RCBs were suddenly thrown out of the Bank of Ghana clearing house".
According to him, the decision to throw RCBs out of the Central Bank's clearing house "was a terrible decision for the RCBs since the universal banks were not giving RCBs the best services. Universal banks sometimes served coins and mutilated money to RCBs anytime they went for specie".
He added that "one Mr Haizel of Edinam Rural Bank (now Kakum Rural Bank) advised we get an Apex Body that would help clear RCB cheques in order to put an end to cheque clearing nightmares facing the banks".
"As then the Secretary of the Central Region Chapter of the Association of Rural Banks, I supported the idea of setting up an Apex Body to help in clearing the RCB cheques", he said.
He revealed that, "a seven-member committee was set up and tasked to write a proposal on the possibility of coming out with an apex body to handle cheque clearing for all RCBs. The committee members were P. C. Arthur, J. K. Mensah the then Manager of Ekumfiman Rural Bank, Emma Tandoh, Union Rural Bank, J. K. Lartey of Nyakrom Rural Bank, L. K. Adufu of Bawjiase Rural Bank, Haizel and myself".
The first feasibility meeting was held at Nyakrom Rural Bank and a proposal was sent to the Central Regional Chapter of the Association of Rural Banks, which
was subsequently forwarded to the National Association of Rural Banks and Bank of Ghana.
The Association received a positive feedback from BoG, approving the formation of ARB Apex Bank, to help solve cheque clearing problems facing the RCBs. "In fact it was a memorable moment for me because this was not done for only the Central Region banks but for the whole rural banking industry", he added with a smile.
He stated that "we sacrificed to get all these done but unfortunately, our efforts and achievements were not recognized". He was however happy that the ARB Apex Bank was eventually established. Another memorable moment, he added was when Agona Rural Bank moved to its current ultra-modern head office. He said he was also happy to have witnessed the Silver Jubilee celebration of Agona Rural Bank.
He noted that he was also excited that Agona Rural Bank was acknowledged for its excellent performance in Western Union and MoneyGram inward money transfers. "This recognition was for a period of four years. The bank made good profit during those periods and it boosted its overall banking performance", he added.
High points
At Agona Rural Bank he served as the General Manager for all the years he worked in the Bank, adding that "and it was fulfilling. I also served as the Secretary for the Association of Rural Banks, Central Chapter. I was part of the Product Development Team that came up with the product, ApexLink". When ARB Apex Bank was established, "I was part of the group that worked very hard to secure the cheque clearing system for the RCBs".
Achievements
"My greatest achievement was the good management and governance structures and the efficient management system we put in place. We did our best to sustain the Bank, something I see as a major achievement, since some of the banks in the Central Region have unfortunately gone under" he said. The Bank currently has branches spread across Central and Western Regions.
What attracted him to rural banking?
He revealed that he was 29 years old when he joined Agona Rural Bank as the founding General Manager. At the time, the lure was not the monetary gains. "Looking at the services and conditions at the rural bank, one can say it was not attractive to work in the rural banking sector at the time", he noted , adding that, "as for me the money aspect was not a motivating factor but rather, what attracted me was the opportunity to serve my people in the Agona area".
Secondly "I realized that there was something in me that I could bring out to make a mark. That was also my motivation for choosing Agona Rural Bank. What I was earning at GCB outweighed what I earned at Agona Rural Bank".
The third aspect "was the recognition I had as the General Manager of Agona Rural Bank".
Interview an honour
He said, "l am honoured to have the ARB Apex Bank team recognize my achievements and contributions to the industry and come all the way to Agona Swedru to interview me".
"I dedicated my entire working life to the rural banking sector and I am proud of it. I am sometimes called upon for advice and to share my experience with some RCBs", he added.
After his retirement in 2014, the ARB Apex Bank engaged him as a consultant "to help investigate and address issues facing distressed RCBs in the Greater Accra and Central Regions".
He continues to render consultancy services to the Apex Bank and the Central Regional Chapter of the Association of Rural Banks.
Advice to RCBs
From "my experience, the challenges facing the RBCs are mainly due to leadership and governance issues, which can be traced directly to insincerity in leadership, greed and officers not being truthful in their dealings. Some RCBs create phantom income.
They present financial statements, which do not reflect the true state of the banks. They debit non-existent accounts and the corresponding entries are captured into the income account just to make it look good". "These things are not good, since it is just a matter of time that the fraud would be uncovered", he stated. He cautioned that, RCBs must take a cue from the current challenges facing the banking industry.
"They must not view sister RCBs as their competitors in the industry but rather work together to have an advantage over the universal banks", he stated.
Today's RCB staff he stressed, "should be God fearing and believe that it is God who rewards human efforts. They must give off their best, sacrifice and be content with their salaries". Staff of the RCBs "should be honest in their dealings because as the saying goes, 'do not kill the hen that lays the golden eggs'.
He noted that "it takes commitment and selfless leadership to excel as a rural banker. RCBs should be truthful to their customers and offer excellent customer service. They should interact with their customers, know more about their businesses and see how best they can assist them".
He also revealed that "it pays to be honest with your work, and I therefore, advise all to give off their best. Adding that, "I had the opportunity to travel to seven countries, all under the auspices of the ARB Apex Bank and the World Bank. I had all these opportunities because I was selfless in carrying out my duties. I was also part of the team of experts from the World Bank which went on a study tour in 2004 to explore the functionality of the E-merge software, currently T-24 being used by the RCBs".
According to him, "the team was made up of myself, Mr Emmanuel Kwapong the first Managing Director of the ARB Apex Bank, Mr Charles Pinkrah former Head of ICT, ARB Apex Bank and two other staff from BoG and another staff from Ecobank. We went to Kenya and The Netherlands to examine how the software worked.
We also visited the United Kingdom, thus the Temenos office to interact with and observe the functionality of the Software. All these added up to the fruits that I reaped after giving off my best".
Advice to ARB Apex Bank
He added that "the ARB Apex Bank should come out with products that would link RCBs together and also create an integrated system where 'bank A' customers can access funds in 'bank B'. That if done, he said, would deepen the payment system for the RCBs.
He also advised the ARB Apex Bank to produce corporate advertisements for all RCBs. Such a venture could be done in partnership with the Association of Rural Banks.
Advice to the Community
He advised people in the surrounding communities to first, "trust the RCBs in their catchment areas. They should also know that the RCBs are their banks. They should therefore be ready to provide support for the survival of the banks". Second, he noted, "District Assemblies and the traditional authorities should own shares in RCBs to help increase their capital base to help the banks grow more businesses. The District Assemblies Common Fund should also be channelled through the RCBs".

Post-retirement
After working successfully for Agona Rural Bank for 31 years, he retired and is enjoying his pension at a serene estate in Agona Swedru in the Central Region. He said he "worked as a consultant from 2014 to 2016" and he is currently local preacher in the Presbyterian Church.
He also serves on a number of committees of the church at both the district and national levels. He has also been engaged in small scale farming and offers periodic advice to the Central Regional Chapter of the Association of Rural Banks.

| | |
| --- | --- |
| | |