Marketing facts for Rural Banks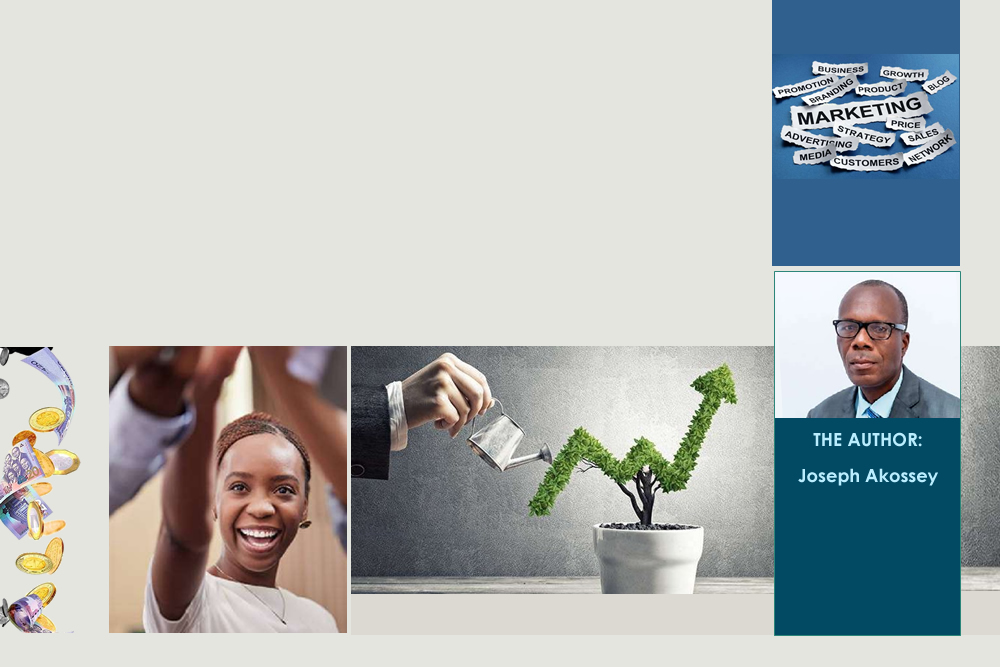 Marketing plays a critical role in the services industry. Many organisations however do not appreciate the full benefits of marketing. This feature article explores and highlights eight (8) essential marketing facts that Rural and Community Banks (RCBs) must consider in their planning processes.
"Selling is only the tip of the marketing iceberg. This means that marketing is much broader and it encompasses the selling activity. "Marketing can make selling superfluous" Peter F. Drucker. This shows the broadernature of marketing, overselling."
1. Marketing is an investment
RCBs view marketing as a cost and are reluctant to introduce marketing strategies to help enhance the financial performance of their banks. The marketing function is an investment (profit centre) and should be given the needed recognition. Formulation of effective and innovative marketing strategies can be a driver of growth in customer base, deposits, brand equity, and customer loyalty. This will no doubt culminate into a positive bottom line. Peter F. Drucker made the assertion that "marketing and innovation produce profit (results), all the rest are cost".
Recently, I conducted a marketing research among some selected financial institutions in Ghana. The findings indicated that the few banks which placed a premium on marketing consistently outperformed their peers that view marketing as inconsequential. The findings would serve as a valuable learning guide for the RCBs, as marketing contributes positively to a firm's bottom-line. RCBs must take cognizance of the saying, "you cannot get something for nothing". For this reason, they must invest in marketing programmes for maximum returns.
2. Marketing is not synonymous with selling
Some individuals and institutions hold the view that marketing is the same as selling. The notion that marketing is the same as selling can lead to marketing myopia. Marketing myopia is a shortsighted view to selling goods and services than seeing what consumers want. It is significant to state that, marketing is not the same as selling.
Selling is only the tip of the marketing iceberg. This means that marketing is much broader and it encompasses the selling activity. "Marketing can make selling superfluous" Peter F. Drucker. This shows the broader nature of marketing, over selling.
Let me emphasize the fact that marketing activities consist of brand management, capturing marketing insights, developing marketing strategies and plans, and marketing communication, among others. Therefore, management of RCBs must allow their marketing managers to perform the above mentioned activities to enhance selling.
3. Marketing must be a distinct department
Some RCBs have merged their marketing function with other key departments, while others have fused marketing with the credit or operations departments. I have been asking myself why this arrangement. Is it to reduce cost or achieve some specific objective? The best practice is to allow the marketing function to operate as a separate department. The reason is that marketing is a key value driver and also plays a strategic role. Allowing the marketing department to be on its own will result in marketing efficiency and effectiveness. Further, it will help to measure marketing performance.

4. The marketing manager must be part of the key management personnel
Being part of the key management personnel will enable the marketing manager to present and defend strategies and plans to help draw broad executive buy in, as marketing is a value-creating part of the business and contributes to the strategic direction of the bank. Further, marketing is a managerial function, as such the marketing manager should be a top management person.
5. Should business development replace marketing?
The latest trend in the rural banking space is the change of designation of marketing to business development. I have been wondering for some time the reason for the change. Business development is embedded in marketing. The focus of business development is on developing strategic relationships, winning new businesses, and maintaining existing ones. It must however be stressed that what matters is not the title marketing or business development but doing proper marketing that will ultimately drive superior value for key stakeholders, and especially customers.
6. The marketing function must be well resourced
For marketing effectiveness and efficiency, the department must be well resourced to deliver on its mandate. What are the resources? These include: adequate annual budget (funds), recruiting the right people, logistics to aid in carrying out the day-to-day marketing activities, among others. Marketing is critical and strategic, therefore, the Marketing Manager must be carefully selected. The person must be creative, innovative, dynamic, results-oriented, and have a passion to serve customers. The fact that professionals are employed as Finance Managers, Credit Managers and many more underscores the fact that professionals are also required to lead the marketing department to drive marketing performance.
7. Return on marketing investment (ROMI) is not always in the short term
The results attributable to marketing activity cannot always be quantified in the short term. For example, when marketing communications campaign is being rolled out, it might take some time to realise its impact on sales performance. This is because some rational consumers unlike emotional ones, sometimes go through the buying process before making the purchase decision. Therefore, CEOs of our RCBs should exercise patience when it comes to trying to evaluate return on their marketing investments.
8. Marketing must be everyone's business
To achieve effective marketing operations, the marketing concept should permeate the entire bank. This implies that marketing should not be the responsibility of the marketing department alone. Every department and employee of the firm must embrace the marketing concept by prioritizing customer satisfaction and delight. In other words, every staff must eat, drink and breathe marketing. From a practical perspective, RCBs must break down their silos and boost cross-functional collaboration.
Conclusion
So far, I have discussed some key facts about marketing that RCBs must appreciate. So what is the bottom-line? See marketing as a catalyst for profitable growth and a necessity, not an option.
| | |
| --- | --- |
| | |